Silver plating is widely used in electronic parts, ornaments, tableware, etc. because it has excellent electrical conductivity, antibacterial properties, and bonding properties. Recently, hard silver plating has been increasingly used in electric vehicles' connectors that require a large amount of current flow.

While silver plating is an electrical plating, it cannot be used inside a ceramic package or a cylindrical shape.

However, we can provide displacement silver plating and reduction silver thickening plating, which are electroless silver platings that do not use electricity. In particular, the reduction silver thickening plating can be plated to a film thickness of about 5μm, which is hardly possible with other silver platings. New applications can be expected for inner diameters that require silver.

* The displacement silver plating can be applied only on copper materials.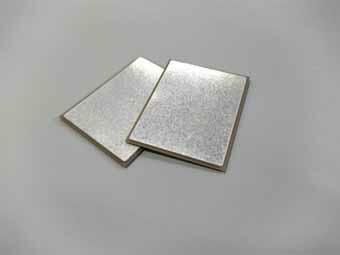 Basic characteristics
| | | | | | | | | |
| --- | --- | --- | --- | --- | --- | --- | --- | --- |
| Decorativeness | Wear resistance | Heat resistance | Corrosion resistance | Chemical resistance | Soldability | Lubricity | Adhesion | |
| △ | △ | 〇 | 〇 | 〇 | ◎ | 〇 | ◎ | |
Features
Features 1
Application to next-generation semiconductors
A thin type of replacement silver plating is effective for cooling devices for next-generation semiconductors. Our displacement silver plating can provide a uniform appearance with sufficient thinness. * The displacement silver plating can be applied only on copper materials.
Features 2
Reduction silver plating (thickening type)
While commercially available electroless silver plating chemicals can only be plated to a thickness of about 1 μm, improvements in our chemicals and our original plating methods have made it possible to increase thickness to about 5 μm. It can be widely applied for plating inner diameter sections or pipes. Unlike with displacement silver, by applying electroless nickel plating to the base, it is possible to plate not only to copper materials but also to stainless steel, aluminum etc. The film is soft and matte, and when used for electrical contacts and busbars, it can reduce contact resistance.
Plating equipment
Proceccable materials
Copper materials (displacement silver plating is able to process only copper materials), iron, stainless steel, brass, aluminum.
Application
Automotive connectors, large capacity terminals, ceramic packages, cooling boards, etc.